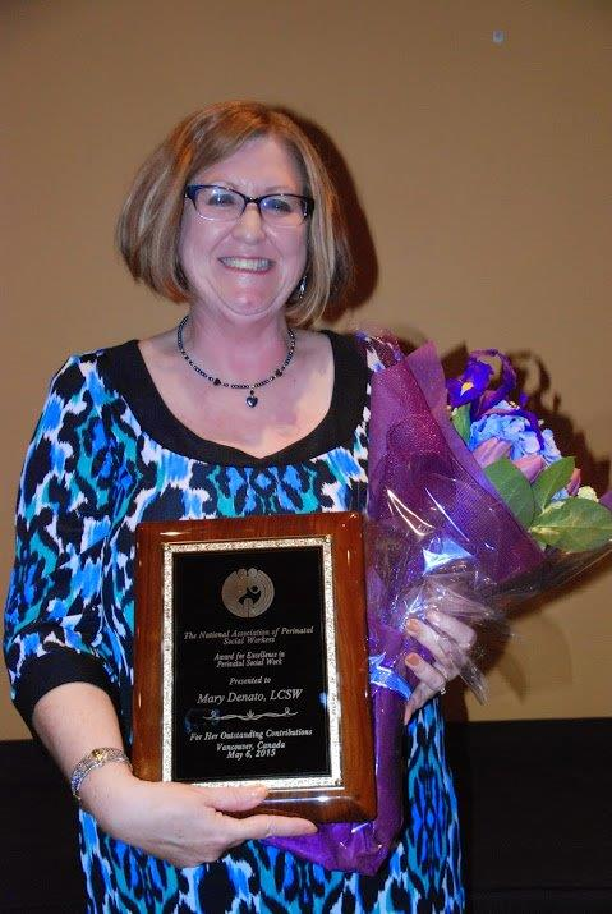 Mary Denato, LCSW of Riverbank, California has been awarded the National Association of Perinatal Social Work Award for Excellence for 2015. This award recognizes outstanding achievement in the field of perinatal social work and is presented to one recipient each year at our national conference. The award was presented at the opening banquet of the 39th Annual Conference on May 6, 2015 in Vancouver, British Columbia.

Mary was nominated by four NAPSW members, Hannah Raiden-Wright and Barb Menard from California, Debby Segi-Kovach from Florida and Judie McCoyd from Pennsylvania. Hannah wrote, " Mary has been an active member of NAPSW for many years and has made substantial contributions. She is hardworking, compassionate and an insightful social worker who is an excellent advocate for her patients and families. She has worked hard to further best practices for the perinatal social work profession." Barb mentioned that Mary has been committed to NAPSW and to perinatal social work for most of her career. Debby and Judie wrote that Mary has served on the Board of Directors and other committees and always steps up to the plate to help the organization. They further stated that Mary hosted and co-chaired the 2011 NAPSW Conference in Northern California. She took on this huge challenge and the conference was one of the largest in the number of attendees. Under Mary's leadership she mentored newer social workers to get involved with the conference planning.

Mary Denato has been a member of NAPSW for 14 years. She has served on the Board of Directors from 2005-2009. She co-chaired the 2011 NAPSW conference in San Francisco. She is the current NAPSW liaison for Region 8 as well as a member of the nominating committee.

Some of Mary's professional interests include the following. She served as a Field Instructor for California State University MSW Program from 1998-2009. She presented at a previous NAPSW conference in 2004 on the Perinatal Social Work role in Surrogacy and wrote articles in the NAPSW Forum. She has presented on the NICU social work role to new graduates and RN hires at Doctors Medical Center. She has lectured on perinatal grief and loss topics.

Mary received her Bachelor of Social Work degree at the University of Illinois in Champaign, Illinois and her Master of Social Work degree at the University of Illinois in Chicago at the Jane Addams College of Social Work. She is a Licensed Clinical Social Worker in the State of California and is also an ACSW.

Mary Denato is currently employed as a Medical Social Worker at Kaiser Antioch Medical Center in Antioch, California where she has worked since May 2012.

Mary has had extensive work experience in the social work profession in various agencies and hospitals. Her first job from 1980-1984 was that of a Vocational Evaluator and Job Site Manager at the Easter Seal Rehab Center in Joliet, Illinois. From 1985-1987 she was the Acting Director of Counseling and Social Service Department and a Medical Social Worker at Silver Cross Hospital in Joliet, Illinois. From 1987-1990 she worked as Medical Social Worker at St. Joseph Medical Center in Joliet, Illinois. In 1992-1994 she moved to California and worked as a Director of Social Services at Anberry Rehab Hospital in Atwater, California. Later from 1998-2012, she was the Clinical Social Worker, Team Lead and covered the Level 3 NICU and High Risk Women and Children at Doctors Medical Center in Modesto, California.

Many congratulations letters were received from Mary's colleagues and coworkers. Dr. David B. Klain wrote, " In the many years I worked with her in the neonatal intensive care unit, I found her to be an invaluable asset in the care of the young, sick patients and their families. She was a valuable member of the NICU care team. Her role as advocate for our small patients was performed with the highest level of professionalism."

Another congratulations letter was received from Tracy Kempf, LCSW-Doctors Medical Center in Modesto, California. She wrote, " Mary has a wonderful grasp of the needs of patients, and has applied herself diligently for her entire career to providing compassionate care to families she has served. She understands the needs of her patients and tirelessly advocates for them. As a teacher and educator, she has excelled in mentoring young social workers along the way and takes great joy in this. With warmest regards on this wonderful achievement."

Robert Smith, Ph.D of Doctors Medical Center wrote, " I have known Mary for the past 15 years through our work together at Doctors Medical Center in Modesto. Mary quickly found her passion in serving the Neonatal Intensive Care Unit patients, parents and staff. Form there she chose to further develop her ties to the subspecialty of Neonatal Intensive Care Social Work by investing her time and efforts in the national organization. She is routinely recognized as a go-to-person for parents and staff who might have questions about resources available in a variety of programs serving the special needs of neonatal patients and their parents."

Another colleague, Sonia Alves, MSW, Manager of Social Services at Doctors Medical Center in Modesto, California wrote, " I can think of no other perinatal social worker more deserving of this special recognition. Mary possesses a unique perspective that is holistic and sensitive to the needs of her clients. She can also be described as a caring and empathetic social worker whose warmth and compassion puts others at ease. She goes above and beyond for the needs of her clients. Mary has demonstrated throughout her career a diligence and dedication to the social work profession. I wish to congratulate Mary and commend NAPSW in choosing her for this prestigious award."

Carol McMenamy, LCSW, Manager of Medical Social Worker and Case Management at Kaiser Permanente in Walnut Creek, California wrote, " After working many years in acute physical rehabilitation, Mary returned to Maternal Child Health and Neonatal Intensive Care Social Work. This is the area of work that Mary found most rewarding and she simply seemed to " fit". Mary is the " go to" person with a deep knowledge base and expansive multicultural understanding of issues families face, when welcoming a newborn or grieving the loss of a child they have already come to love. Families love Mary and the parents feel safe with her. She is genuine."

NAPSW congratulates and salutes Mary Denato on all her professional accomplishments and on receiving this prestigious award!