2017 Award for Excellence Recipient, Rasa Ragas
Rasa Ragas Receives 2017 NAPSW Award for Excellence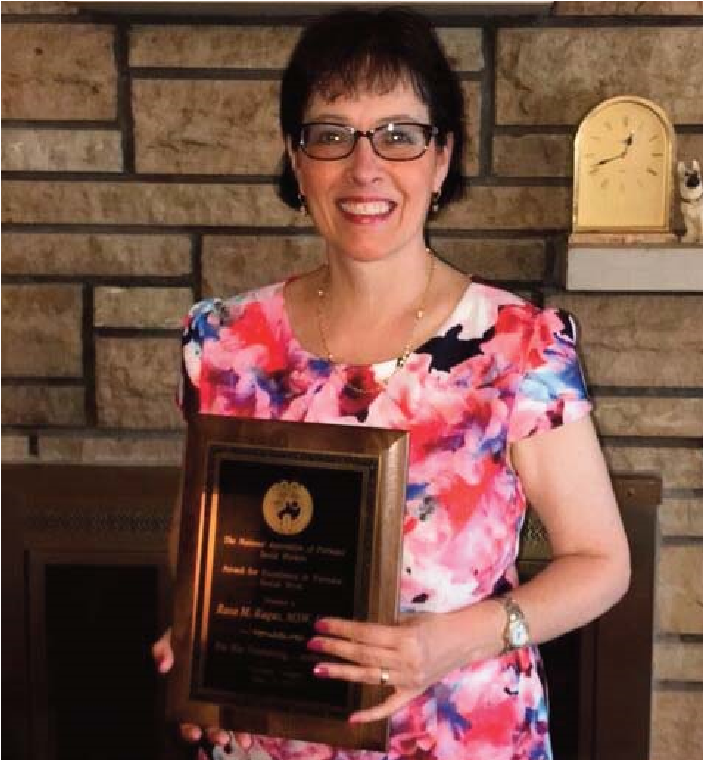 Lisa Baker, LCSW, PhD, Awards Committee


Rasa Ragas, LSW of West Chester, IL, has been awarded the National Association of Perinatal Social Work Award for Excellence for 2017. President JaNeen Cross presented the award as Award's Chair Lisa Baker was not able to attend the conference. The Award for Excellence recognizes outstanding achievement in the field of perinatal social work, including clinical work, education and research, and service to the organization. This Award is the highest honor bestowed on members and is an important way to recognize the accomplishments of our colleagues. As Rasa was unable to accept thev Award in person, Dr. Cross read Rasa's acceptance letter to the membership at the opening banquet.
Rasa has been drawn to the field of social work from the beginning of her college education. She received her BSW and MSW from George Williams College in Downers Grove, IL. Rasa has held many clinical positions throughout her career and has been a valued member of care teams in many settings. Rasa's service throughout her career reflects her passion and commitment to perinatal social work.

Rasa has been in her current position as a NICU, OB, L & D and high risk obstetrics social worker at Loyola University Medical Center since 1991. Previous positions include social work supervisor at Oak Park Hospital in Oak Park, IL, and clinical social worker at MacNeal Memorial Hospital. In addition to clinical service she has championed the needs of pregnant women and their families by publishing in the area of ethics and social work, especially related to infants of drug-addicted mothers.

In 2016 Rasa was a distinguished nominee of the Spirit of Dr. Martin Luther King, Jr. Award from the Loyola University Health System. Her experience is not limited to the United States. In 1998 Rasa lectured and toured in the medical academies at Vilnius in Kaunas, Lithuania, as a part of an interdisciplinary perinatal/neonatal team. She also gives back to the profession in her role as a mentor: she supervises MSW graduate students and participates in the mentorship program at Aurora University School of Social Work.

Rasa is well-known to NAPSW. She has dedicated countless hours to NAPSW, as a member of committees such as Long Range Planning, as a State and Regional Representative, as co-chair of the Las Vegas (2006) and Indianapolis (2008) conferences, and through conference presentations and contributions to the Forum. In 2011 Rasa was elected President of NAPSW and served in this position until 2013. She continues to be a committed and valued member of the organization, volunteering her time and expertise in numerous capacities.

Rasa was nominated for the Award by Debby Segi-Kovach of Florida. Debby wrote that "Rasa has devoted most of her career to perinatal social work. She has been a dedicated member of NAPSW … Due to her long dedication to perinatal social work for over 20 years it is an honor to nominate her for her outstanding contributions."

In preparation for presenting the Award we were able to solicit many congratulatory letters from Rasa's colleagues. Dr. Marc Weiss, co-director of the Loyola University Perinatal Center, wrote, "Having worked with you for so many years I can attest to the attributes you possess that are today being recognized nationally. First and foremost is the compassion you bring to our patients and families. Our clientele is rich in the wide range of human experiences—as you often say, 'You can't make this stuff up!' Yet you always rise to the challenges presented, helping these families get through crisis. … You bring honor to your profession, and secondarily, pride and recognition to Loyola."

Diana Welsh Durkin, chaplain at Loyola, wrote to Rasa: "I cannot count how often I visit a patient after you and all I hear is how you were able to assuage their concerns and fears and provide concrete resources for our mothers in Women's Health and the parents of our Neo babies. Maybe they don't always say 'thank you' but I know they are grateful because you have made a difference in their lives." Another colleague from Loyola, Marianne Chybik, RN, had these words, "Rasa is a consummate professional, and is the go-to person in our department for any and all maternal and child questions and crises."

In addition to her nomination comments, Debby Segi-Kovach also provided a congratulatory letter. She remarked, "It is my honor and privilege to In addition to her nomination comments, Debby Segi-Kovach also provided a congratulatory letter. She remarked, "It is my honor and privilege to have this opportunity to congratulate you as you receive the 2017 Award for Excellence. … Throughout our many years of friendship and serving we have laughed, cried and supported each other through difficult work challenges. You have always been willing to share these challenges with others so we too can learn from them. Also I know your clients and staff at your institution have reaped the benefits of both your perseverance and commitment."

Perhaps one of the most heartfelt congratulatory letters came from Rasa's daughter, Daiva Ragas, an Occupational Therapist at Loyola University Health System. Daiva writes: "You have truly dedicated your life's mission to the field of neonatal social work. Your compassion for the families you serve, your respect for the colleagues you support, and the fulfillment you receive from your vocation ignited my own passion for health care. A hundred years ago, within the famed Jane Addams Hull House, a group of movers and shakers grew out of the field of social work to establish a new allied health field of occupational therapy. Sharing with social work the foundational principle of client-centered practice, OT bridges the psychosocial with biomedical frameworks to treat individuals from a holistic perspective. How symbolic then that I, raised by a social worker, became an OT. …. [Y]ou grace through every day with a smile, and the difference you make in children's and families' lives makes even the hardest day worth it. Thank you for nurturing me with your personal and professional values so that I, too, can make a difference in health care."

And finally, the Director of Care Management at Loyola, a fellow social worker, had these words to say: "For St. Ignatius Loyola, founded by the Jesuits, the term Magis described an important spiritual and personal value … Magis speaks to the idea that in all of our work we remain open and adaptable to how we might do something better, be more generous with others, and be attentive, imaginative and reflective. Thank you for the opportunity to celebrate what is best in Rasa, her Magis spirit, the 'MORE' she offers every day."

Having known Rasa for many years and having benefitted from her guidance, professionalism and true heart for perinatal social work, it is my pleasure to write about this honor bestowed on her. Please join NAPSW in congratulating Rasa on all of her accomplishments and in receiving this very special honor. Thank you Rasa and congratulations!